¿Quieres conseguir que tu caballo viva junto a tí en las mismas condiciones que le ofrecía la Naturaleza cuando vivía en libertad? Parece un sueño, pero no es imposible y para entenderlo, nada mejor que profundizar en el conocimiento de Paddock Paradise.
LA FOTO DE LUCA GANDINI NOS MUESTRA UN "TRACK", EL CAMINITO NATURAL Y ESTRECHO CREADO POR CABALLOS SALVAJES EN NEVADA.
Paddock Paradise se basa en las investigaciones de Jaime Jackson en caballos salvajes. Es un modelo revolucionario para la estabulación natural y segura  de los caballos. La meta del Paddock Paradise es estimular los caballos para que se comporten y se muevan naturalmente según sus instintos. Esta es la clave, según Jackson, de tener caballos física y mentalmente más sanos. Este modelo único y sin precedentes es adaptable a casi todos los tamaños de terrenos, sin importar el clima y es adecuado para todas las razas equinas en cualquier uso.
Para los que no sabéis mucho sobre el concepto de Paddock Paradise, digamos que es un modo de tratar de una manera cada vez más natural la estabulación de caballos. Se basa en el estilo de vida naturalmente sano de los caballos salvajes de la "Great Basin" americana, tema sobre el que trata el libro "Paddock Paradise: La Guía de la estabulación natural de los caballos", escrito por el cuidador natural de cascos, o "natural hoof care practitioner" y experto en caballos salvajes, Jaime Jackson.
Según las investigaciones y estudios de Jaime Jackson, las manadas de caballos viajan por rutas ya conocidas y llamadas"tracks", mientras se desplazan de un sitio a otro en sus varios territorios. Por su naturaleza de animal de presa, las bandas de caballos salvajes se mueven por su instinto a través de sus praderas nativas, en formaciones unidas mientras buscan forraje, agua, sitios para revolcarse, otras bandas con las que socializarse y muchas otras actividades esenciales para su biología y supervivencia.
A LO LARGO DEL "TRACK" SE DEJA ALGO DE HENO QUE LOS CABALLOS VAN ENCONTRANDO Y QUE LES ESTIMULA A SEGUIR BUSCANDO.
Sistema de los "tracks"
A través de la creación de "tracks" similares, el Paddock Paradise estimula el movimiento natural o desplazamiento de los caballos, sobre los que crearán sus propios "tracks" muy estrechos, áreas desgastadas en las que el viaje o movimiento hacia delante es la única actividad. Tal y como sucede con los caballos salvajes, viajar sobre conocidos y eficaces "caminos de la menor resistencia" parece ser el objetivo nunca pronunciado pero muy bien entendido también entre los caballos domésticos.
El "track" debería ser tan ancho como sea necesario para la actividad desarrollada. Es decir, más estrecho en áreas designadas simplemente para mover los caballos y más ancho en sitios donde se pararán y acamparán, comerán, dormirán, descansarán, jugarán, etcétera. En cualquier caso, el instinto de la supervivencia es la fuerza motriz que causa este movimiento.
La creación del sistema de "tracks" es la base del Paddock Paradise. La plantilla más sencilla es vallar el perímetro del terreno de que dispongamos. El ancho del "track" debe ser suficiente como necesario para la actividad realizada. Los tramos designados para desplazarse deben ser estrechos (para que pasen en fila los caballos) y las áreas predestinadas para el juego, comida, descanso y sueño deben ser más amplias.
Puede ser un terreno alquilado y podemos utilizar solamente elementos económicos y de muy fácil instalación y desmontaje posterior. Utilizamos postes de plástico con tan sólo una simple cinta conductora, que puede ser alimentada por un electrificador de panel solar.
Con un montaje económico, podremos conseguir que en el Paddock Paradise, los caballos vivan más de acuerdo a cómo lo hacen en plena Naturaleza, beneficiándose mental y físicamente.
ES IMPORTANTE QUE LOS CABALLOS PISEN SUPERFICIES VARIADAS PARA TRABAJAR SUS CASCOS, COMO GRAVA, PIEDRAS DE RÍO O ARENA.
Beneficios físicos y psicológicos
Paddock Paradise expone un amplio despliegue de modelos para la creación de los "tracks" y tiene recomendaciones específicas basadas en la variedad del comportamiento natural de los equinos. La meta principal es facilitar la saludtanto física como mental en los caballos domésticos.
Paddock Paradise es la cura o el antídoto para muchas afecciones, enfermedades, estereotipias de las que padecen los caballos domésticos como consecuencia de la vida en boxes o de otras formas de encerrarlos en espacios muy limitados. O también, como la permanencia en pastos de hierba exuberante y cargada de azúcar, lo que puede causar la infosura.
Además de prevenir y rehabilitar las enfermedades previsibles, Paddock Paradise también minimiza o acaba con el aburrimiento, lo que significa el final de los vicios de cuadra, irritabilidad o depresión.
Cuando se permita a los caballos vivir en la manera más parecida a su hábitat natural, no sólo serán más sanos sino también más felices. Paddock Paradise permite a los caballos estar al aire libre y en movimiento 24 horas al día y les permite comer de manera más natural a través del acceso constante a la comida correcta.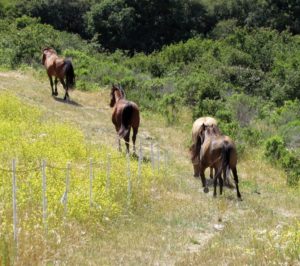 A LO LARGO DEL "TRACK" SE DEPOSITA LA HIERBA EN VARIAS ÁREAS, EN FORMA DE PEQUEÑOS MONTONCITOS O INSTALÁNDOLA DENTRO DE REDES.
Alimentación razonablemente natural
El sistema digestivo del caballo no está diseñado para soportar largos intervalos de ayuno interrumpidos por consumiciones puntualmente abundantes de comida, que es el sistema con el que funcionan muchos establecimientos. En los últimos seis años, numerosos Paddock Paradises se han creado en el mundo, tanto en establecimientos de estabulaciones comerciales como en propiedades privadas.
El elemento básico del sistema de Paddock Paradise es que se proporcione la "alimentación razonablemente natural" en forma de hierba seca a libre discreción. Dependiendo del lugar de residencia, la mejor manera de suministrar la hierba seca es en varias áreas designadas para comer a lo largo del "track", en forma de pequeños montoncitos o instalándola dentro de redes de consumición lenta estratégicamente instaladas (estaciones de alimentación).
Las redes ayudan a evitar que se malgaste la hierba seca por la fuerza del viento, a que se mezcle con el barro o a que se estropee por la orina o excrementos. El barro es definitivamente uno de los elementos más frustrantes para los propietarios de los caballos en climas húmedos. Vale la pena instalar caminos de tierra o base de carretera para mantener el "track" seco y bien drenado.
En resumen, si creamos el Paddock Paradise para nuestros caballos les ayudaremos a vivir más próximos a lo que era la intención de la naturaleza. Los beneficios físicos y mentales son incalculables y de larga duración.
UN PERFECTO EJEMPLO DEL COMPORTAMIENTO NATURAL DEL CABALLO COMO ANIMAL DE PRESA QUE VIVE AL AIRE LIBRE DONDE HAY PREDADORES. AL ESTAR ALERTA POR SU PRESENCIA, LOS CABALLOS GIRAN LA CABEZA Y SE RELAJAN DE MANERA NATURAL, LO QUE AYUDA A ESTIRAR SU COLUMNA Y A SER MÁS ELÁSTICOS.
Preguntas frecuentes
¿Es posible crear el Paddock Paradise en un terreno de media hectárea?
Media hectárea es aproximadamente el límite bajo para el Paddock Paradise. A menudo bromeo diciendo que "no se puede tener el Paddock Paradise en el box", pero sí, puede funcionar.
Media hectárea equivale aproximadamente a 70×70 metros, es decir, unos 5000 metros cuadrados. Sumando los lados, sin importar de la forma de la media hectárea, el perímetro suma más o menos 280 metros o un poco más que un cuarto de un kilómetro (eso, siempre que se utilice sólo el perímetro). Sin embargo, si el "track" está diseñado para serpentear por la media hectárea, entonces su longitud crecerá proporcionalmente. Entiendo que muchos propietarios de caballos lo hacen en esta manera y creo que es buena idea, salvo que tener un espacio abierto en el interior del perímetro sea lo deseado.
Por supuesto que es de esperar que los caballos se muevan continuamente a lo largo del track, de una actividad a otra. Respecto a la distancia, ésta aumenta rápidamente para el gran beneficio del caballo.
Tengo un terreno con la hierba densa y exuberante. ¿Cual es la mejor manera de montar el "track"?
Deshazte de la hierba de la manera que puedas. La solución está determinada por el ancho del "track" y los obstáculos que se encuentran en él. La gente utiliza los tractores con discos y cuchillas, las antorchas de propano, herbicidas no tóxicos, animales como las cabras y ovejas, o plástico de jardinería puesto encima de la hierba y cubierto con tierra, roca y grava. Desviando los "tracks" fuera de las áreas de hierba, también se evitarán estas trampas laminíticas.
¿Hay alguien que utilice un comedero automático o redes sobre grandes balas?
Soy partidaria de cualquier sistema que permita ofrecer forraje disponible las 24 horas y que favorezca el movimiento. Los comederos automáticos y grandes cantidades de hierba seca en un lugar fijo animarán a los caballos simplemente a estar de pie y comer, apartándose tan solo para llegar al agua. Lo ideal y más fácil es tirar la hierba seca a lo largo del "track".
Sin embargo, bajo condiciones adversas como fuertes vientos, lluvia y barro, esta manera de alimentar no funcionará demasiado bien y se malgastará la hierba seca. Si no hay problema con el viento, se debe suministrar tan sólo una cantidad de tal tamaño que el caballo no la pise, no excremente, ni orine encima.
El uso de las redes de hierba seca en grupos a lo largo del "track" parece lógico si tenemos problemas con el viento, desperdicio de hierba o contaminación. Por supuesto, la hierba estropeada se puede recoger con el rastrillo y los excrementos para el compost. Te sorprenderás cómo los jardineros de la zona aprovecharán todas las oportunidades de limpiar los "tracks" si se les permite!
¿Cómo organizarse con la creación del Paddock Paradise si uno no es el propietario del terreno, o sea si no está permitido realizar alteraciones del terreno?
 Si el propietario del terreno está abierto al concepto, lo que más sentido tiene para construir el "track" es utilizar el cerramiento temporal con el pastor eléctrico que es fácil de instalar. Las varillas de plástico son relativamente económicas y de fácil instalación (o desinstalación). Una vez se haya completado esto, es simplemente cuestión de ser creativo sin hacer cambios permanentes. Utiliza cargador solar para el vallado si no tienes acceso a la electricidad.
CABALLOS ALIMENTÁNDOSE DE LAS REDES DE HENO DE HIERBA INSTALADAS.
Beneficios
Promover un movimiento constante, tal como se creó por la naturaleza
Mayor movimiento significa un manejo natural del casco más económico.
Protege a los caballos de los peligrosos pastos, que son la causa principal de enfosura.
Minimiza la necesidad de calentar antes de montar.
Ayuda a tratar el comportamiento neurótico ya que ofrece válvulas de escape natural.
Ofrece una manera efectiva de la dieta y del manejo de peso.

LOS CABALLOS RECORREN EN LA VIDA SALVAJE ENTRE 15 Y 20 KILÓMETROS DIARIOS EN BUSCA DE AGUA Y ALIMENTO. TAMBIÉN LES GUSTA REVOLCARSE Y ESTO SE LO PODEMOS FACILITAR EXTENDIENDO ARENA FINA EN DETERMINADAS ÁREAS.
Los creadores
Jill Willis es una profesional del Cuidado Natural de Casco y del caballo en general y forma parte de la junta directiva de la AANHCP (Asociación por el Avance de las Prácticas destinadas al Cuidado Natural del Caballo) y socia de Jaime Jackson en el ISNHCP, el brazo formativo de AANHCP. Su caballo de más edad, "ZA Apollo" (actualmente de 24 años de edad) pasó la mayor parte de sus primeros 19 años herrado en sus cuatro extremidades, y su experiencia con él es lo que le ha llevado a cambiar a un diferente y mejor paradigma.
Jaime Jackson es un veterano profesional del Cuidado Natural de Casco y se ha dedicado al cuidado del casco durante los últimos 35 años. También es conferenciante, escritor, científico y valorado experto en cascos de caballos salvajes y domésticos. A  principios de los años 2000 Jaime creó The American Association of Natural Hoof Care Practitioners (Asociación Americana de los Practicantes de Cuidado Natural del Casco) ahora llamada The Association for the Advancement of Natural Horse Care Practices o (Asociación por el Avance de las prácticas destinadas al Cuidado Natural del Caballo) AANHCP.net.
Jaime había publicado cinco libros "The Natural Horse; Lessons from the wild"(El Caballo Natural; Clases de lo Salvaje), The Horse Owner´s Guide to Natural Hoof Care (El Manual del Cuidado natural del Casco del Propietario del Caballo; Founder: Prevention&Healing the Natural Way ( Enfosura: Prevención y La Curación Natural; Paddock Paradise: A guide to Natural Horse Boarding ( Paddock Paradise: La Guía de la Estabulación Natural ) y the Natural Trim (el Recorte Natural) (anteriormente The Official Trimming Guidelines of the AANHCP/ Las Directrices Oficiales de Recorte de la AANHCP). Jaime vive en California Central.
MÁS INFORMACIÓN